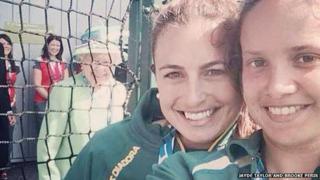 Queen photo-bombs Commonwealth selfie
Two Australian hockey players had a surprise guest in their selfie - Her Majesty The Queen!
Jayde Taylor took a snap with team-mate Brooke Peris at the Commonwealth Games.
The pair were surprised to see the Queen flashing a beaming smile behind them.
Jayde wrote on Twitter: "Ahhh The Queen photo-bombed our selfie!"
People appearing in the background of a photo unexpectedly is often called photo-bombing.
Jayde's snap has become a big hit online.
Watch more Newsround videos