A big argument is going on between the most powerful leaders in the world, after a passenger plane crashed over Ukraine last week.
Nobody knows quite what happened to the Malaysian Airlines jet but it's believed that it was shot down.
Most of the victims of the crash were from the Netherlands. The country held a day of mourning for the victims.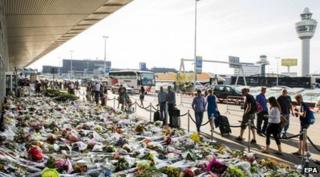 EPA
So far no one has admitted being responsible for the crash. Politicians in the Netherlands, the UK, Australia and the US believe that it was pro-Russian rebel fighters in Ukraine who were responsible.
Advice if you're upset by the news
They've been accused, perhaps because they made a mistake and thought it was a military plane from the Ukrainian forces.
But Russian officials say they don't yet know who's to blame, though they think it could have been Ukrainian forces.
Ukraine has been a war zone for months as a result of fighting between the Ukrainian army and people there who want to be part of Russia.
The process of finding the truth about what caused the crash is likely to take some time.
This type of incident is extremely rare and safety measures have been put in place since it happened.
How safe is flying?
BBC transport reporter Richard Westcott says:
"It's easy to look at a story like this and be worried - but flying is still one of the safest ways you can travel.
"There are around 50,000 aircraft whizzing around above our heads every day and things like this almost never happen.
"If you want to stay safe, the best advice I can give you is to watch out when you are crossing the road or riding your bike. Those things are far more dangerous than flying!"