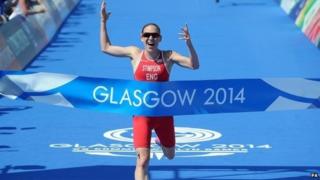 PA
England's Jodie Stimpson won the women's triathlon to take the first gold medal of the Commonwealth Games.
Jodie and team mate Vicky Holland fought hard through the race, which is a 1,500m swim, a 40km bike ride and a 10km run in Glasgow.
Towards the end, there were three women in the front group: Jodie, Vicky and Canada's Kirsten Sweetland.
But Jodie gritted her teeth and stuck out the closing stages of the run, with Vicky coming third to win bronze.
After the race, Jodie, who wasn't picked for Team GB at the London Olympics, said: "I have to thank so many people who got me through this year, and it is awesome to share the podium with Vicky, it is really special.
Getty Images
"All my family are already crying, it's awesome they got to see me in a championship race after missing the Olympics in 2012."
Vicky Holland said: "I knew Jodie would be the biggest threat in the field and I am really pleased she won, not just because she is English but because she really deserves it.
"My legs were failing me towards the end - it was so hard to hold and win this medal I've worked so long for."