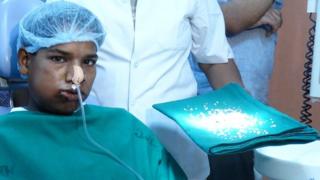 other
Doctors in India have taken out 232 teeth from the mouth of a 17-year-old boy in a seven-hour operation.
Ashik Gavai was brought in to a hospital in Mumbai with a swelling in his right jaw.
The teenager had been suffering for 18 months and travelled to the city from his village after local doctors failed to identify the cause of the problem.
Doctors have described his condition, where a single gum forms lots of teeth, as "very rare" and "a world record".
Dr Sunanda Dhiware, who looked after Ashik, said she had "not seen anything like this before in my 30-year career", but was "thrilled to get such an exciting case".