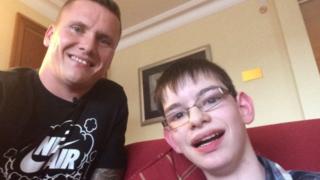 Kieran interviews his hero David Weir
Kieran is 15 and has cerebral palsy.
Recently he and our reporter Martin headed to Glasgow to have a look around some of the venues that will be used in the Commonwealth Games.
While he was there he had surprise visit from a very special person: his hero, Paralympic gold medallist David Weir.
Not only did he meet his idol but he also got the chance to interview him!
Kieran is a member of Generation 2014, a group of young Scottish people the BBC is following in the run-up to the Scottish Referendum on 18 September.
Watch more Newsround videos