Kieran, 15, had a surprise visit from a very special person: his hero, Paralympic gold medallist David Weir. Kieran wrote an account of his day and wanted to share it with Newsround.
I live in Wick in the far north of Scotland with my mum, my dad, and three brothers.
Like millions of others around the world, I have Cerebral Palsy, a condition that affects different people in different ways.
For me, it means I am in a wheelchair, I have poor eyesight and co-ordination, and find moving around very difficult.
David Weir CBE has been a role model of mine since I was seven.
The first race I saw him in was the London Marathon.
I was amazed to see what people could do in their wheelchairs.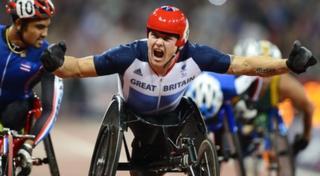 Getty Images
Before that, because where I live is so isolated, I had always believed that I was the only person in the world in a wheelchair.
So - as well as a sense of awe for what the athletes could do - I also had a feeling of relief that I was not alone.
My health took a turn for the worse three years ago, and I was in hospital for ten weeks in a lot of pain.
There were moments when I felt that I could not continue.
In these moments, it was David Weir that helped me find strength.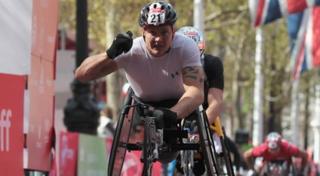 Getty Images
I very clearly remember watching him win at the London Marathon and thinking: "He has taken everything negative in his life and turned it into a positive, I need to do the same".
I was invited by Newsround reporter Martin to travel with him to Glasgow to look at venues in the run up to the Commonwealth Games.
Martin is an amazing guy who also has cerebral palsy.
I was very nervous about going on camera but Martin and his producer Heather were amazing in helping me relax.
We went to the Velodrome to see a sporting venue up close.
It was incredible and very different from what I imagined.
The track was at a strange angle, so how Sir Chris Hoy managed to win races without falling off his bike I will never know.
The plan after that was to go to a fancy hotel that had offered us a suite to do a final interview in which I would summarise my day on camera.
On looking back, I should have known something was going on because the BBC only uses rooms like that when they are interviewing movie stars and athletes.
Martin had a smile on his face as he asked the question 'Who is your favourite sporting hero?'
When I said 'David Weir', Martin looked towards the bathroom and the camera followed his gaze.
That was when David Weir appeared.
It is very hard to say what you think when you see the your hero in the flesh.
It felt like time had slowed down and it is just you and them in the room - or that's what it felt like for me anyway.
It left me speechless.
Martin then said the best thing I have ever heard: "Would you like to interview him".
As it is my ambition to be a journalist it was amazing to be given the opportunity.
Some people say you should never meet your heroes because you will only be disappointed.
I disagree. He was one of the nicest people I have ever met. It's a memory I will always treasure, and I'd like to thank David Weir CBE.
Kieran is a member of Generation 2014, a group of young Scottish people the BBC is following in the run-up to the Scottish Referendum on 18 September.