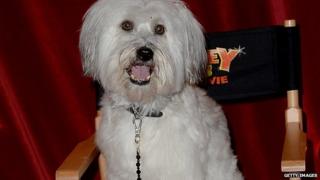 Getty Images
Pudsey: The Movie, all about the dancing dog winner of Britain's Got Talent 2012, is looking like a flop.
The movie, featuring the voice of David Walliams as the canine hero, earned £446,000, which is a really low figure for a film's first week.
How to Train Your Dragon 2 is second in the chart with £1.9m, even though it's been out for weeks in England.
Pudsey's film had some pretty bad reviews, so this is more bad news for BGT boss Simon Cowell, who's behind it.
Across the week, the doggy tale only managed to earn £1,100 in each of the 403 cinemas it was in.
The UK's number one movie last week, Dawn of the Planet of the Apes, took nearly 20 times as much as Pudsey's effort: £8.7m.