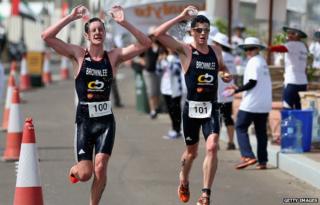 Getty Images
Every day, Newsround will bring you a daily guide to the main events, big names and best stories at the Glasgow 2014 Commonwealth Games.
We will look ahead to where and when we might expect some of each day's key moments.
Day 1 - Thursday, 24 July
Gold medals to be won today: 20. Track cycling, gymnastics, judo, swimming, triathlon, weightlifting.
Day in a sentence: The first medals to be won at Glasgow 2014 will come in the triathlon events, held in Strathclyde Country Park.
Highlights include:
11am - Triathlon: Both the men's and women's races promise exciting battles packed with talent from the home nations.
Olympic champion Alistair Brownlee and brother Jonny, dominant in world triathlon for several years, have looked a little vulnerable in 2014 but will, regardless, start as favourites for England in the men's race. South Africa's Richard Murray should also challenge.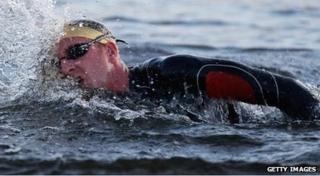 Getty Images
In the women's race, Australian Olympians Emma Moffatt and Emma Jackson will be targeting medals.
4pm - Track cycling: The men's team pursuit will be very competitive.
Sir Bradley Wiggins and Ed Clancy will represent England in the team pursuit. However, both Australia and New Zealand will again send teams packed with riders who won gold and bronze respectively at this year's world championships.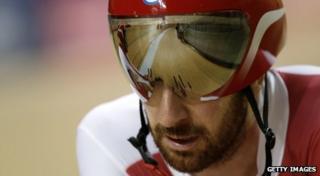 Getty Images
Scotland's Aileen McGlynn will race in the Para-sport sprint alongside pilot Louise Haston, with the time trial to come on Sunday. England's two-time world champion Sophie Thornhill races with pilot Helen Scott.
6pm - Rhythmic gymnastics: Gymnastics' rhythmic discipline involves props such as hoops, balls and ribbons.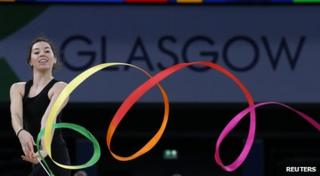 Reuters
Events in Glasgow pit England's Lynne Hutchison and Wales's Francesca Jones against each other in competition.
7pm - Swimming: The host nation's fans don't have to wait long to see Olympic silver medallist Michael Jamieson in action. Team GB's top swimmer at London 2012 will go in the men's 200m breaststroke inside the Tollcross International Swimming Centre.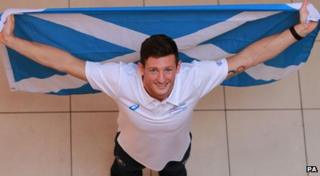 PA
Australia's Christian Sprenger is by far his biggest rival. Sprenger is taking on four events and has admitted Jamieson will be one of the toughest swimmers to beat.
Jamieson's Scotland team-mate Hannah Miley defends her Commonwealth 400m medley title on the same night, while all four home nations will be represented in the women's 4x100m freestyle relay. Australia and Canada will be among the favourites for medals.
Other sports in action: Badminton, hockey, lawn bowls, netball, squash, table tennis.