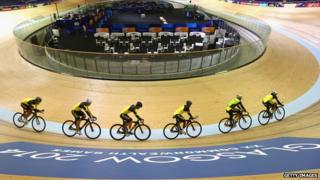 Getty Images
The Queen will formally open the 20th Commonwealth Games in Glasgow later, in front of a 40,000 crowd at Celtic Park.
More than 4,500 athletes from 71 Commonwealth nations and territories will parade during the curtain-raiser.
The Games will feature 17 sports in 11 days of competition, which begins on Thursday.
We want to know which sports you are looking forward to seeing at this year's Commonwealth Games.
Which sport will you be watching at the Commonwealth Games?
Will you keep your eyes on the athletics track where Mo Farah and Usain Bolt will be going for gold?

Have you got tickets to watch any of the sports in Glasgow?

Or do you prefer watching the likes of Tom Daley diving in the pool?

Or is there another sport that you're excited to watch?
Your Comments
I can't wait for the Commonwealth Games! I'm so excited especially as it is being hosted in my home city. I have tickets for the opening ceremony, athletics, weightlifting, gymnastics, badminton and netball.
Erin, Glasgow, Scotland
I will definitely be watching English cyclist Ed Clancy because he lives down the road from me and he came to our school.
Emma, Holmbridge, England
I'll be watching the athletics. I'm keeping my eyes peeled for Mo Farah and Usain Bolt.
Umar, Oxford, England
I have tickets to go to the rhythmic gymnastics final. I will be going with my Mum, Dad and little sister.
Fred, Grangemouth, Scotland
I will be watching the cycling in the velodrome because Laura Trott is really inspiring.
Nicholas, Belfast, Northern Ireland
I can't wait to watch the artistic gymnastics as my friend Clinton will be competing in the men's events! Plenty of team spirit coming from Wales for him, it's so exciting!
Jill, Cardiff, Wales
I'll be watching Tom Daley because he is epic!
Abigail, Elstow, England
I'll be watching the Commonwealth Games on TV. I've also got tickets to see squash and the rugby 7's .
Angus, Cumbernauld, Scotland
I am really looking forward to the games, especially lawn bowls, which aren't in the Olympics so I want to find out if England are any good at them.
Sam, Bath, England
I will be looking out for Aled Davies in the discus throwing.
Seren, Abergavenny, Wales
I am excited to watch badminton because I think that it is a really interesting game to watch, as well as play.
Amber, Leicester, England
I am looking forward to seeing Usain Bolt run.
Rachel, Birmingham, England
I don't know if I'll be watching. I'll be playing outside because of the warm weather.
Emily, Daventry, England