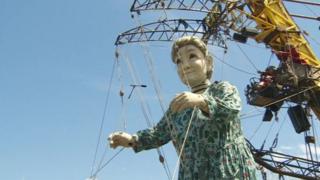 Giant Granny takes part in WW1 parade
Say hello to the giant Grandma - she's 85 years old, 25 feet tall and weighs five tonnes.
The massive granny will be parading around the streets of Liverpool, along with her oversized grandchild as part of World War One centenary celebrations.
She'll tell the story of young men who volunteered to fight during the First World War.
It's thought up to a million people will watch them travel through the city this weekend.
The puppets performed in Liverpool in 2012 and people are keen to see them again.
Watch the giant grandma in rehearsal and Wendy Simon, the Assistant Mayor of Liverpool, chats to us about her.
Watch more Newsround videos