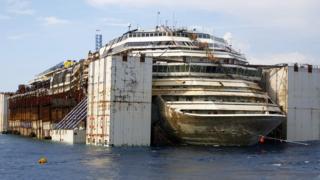 Costa Concordia wreck on the move
The capsized Italian cruise ship, the Costa Concordia, will begin its journey to its home port of Genoa today to be scrapped.
The vessel crashed into a reef off the Tuscan island of Giglio in January 2012, killing thirty-two people.
Salvage workers have spent the past week re-floating the vessel.
The cruise ship is being towed at two knots, almost at walking pace, with an escort of more than a dozen tug boats.
The journey began on Wednesday morning and is expected to take four days.
This time-lapse footage shows the first 15 minutes of the operation.
Watch more Newsround videos