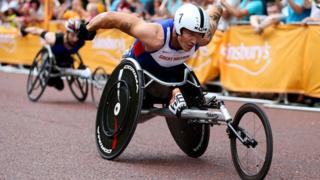 Moment David Weir met biggest fan
15-year-old Kieran uses a wheelchair and lives in rural Scotland.
He says he has been inspired by Paralympic athlete David Weir and is probably his biggest fan.
Newsround gave Kieran the surprise of his life by bringing him face to face with his sporting hero.
See his reaction the moment they met.
We'll have more from Kieran on Thursday's Newsround.
Kieran is part of Generation 2014, a group of teenagers the BBC is following in the run-up to the Scottish referendum. As he'll be 16 by 18 September, he'll be able to take part in the vote.
See Kieran tell about life in rural Scotland as a wheelchair user.
Watch more Newsround videos