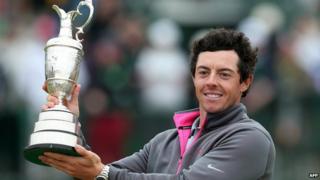 AFP
Rory McIlroy cemented his place in the golf history by winning the 143rd Open Championship on Sunday.
The Northern Irishman became the first European player to win three out of the four major tournaments in golf.
The 25-year-old golfer now just has the Masters left to complete a career Grand Slam.
Only five players have won all four majors in their career - Jack Nicklaus, Tiger Woods, Gary Player, Ben Hogan and Gene Sarazen.
McIlroy said: "It wasn't easy - there were a few guys making runs at me and I just needed to stay focused."
"To win three legs of the Grand Slam at 25 is a pretty big achievement."