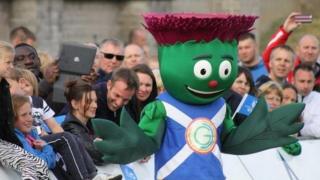 The Queen's Baton has arrived in host city Glasgow, ahead of the Commonwealth Games.
Susan Boyle and Scotland football manager Gordon Strachan are just two of the 400 baton bearers that will carry it around Glasgow in the next few days.
Since the baton set off from Buckingham Palace in October last year, its visited all the 71 nations and territories taking part in the Commonwealth Games.
During the games opening ceremony on Wednesday, the Queen will read out the message that has been hidden inside the baton during its journey around the world.