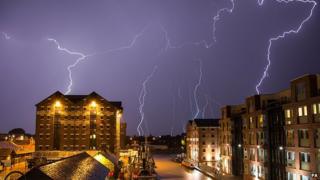 PA
Storms have caused disruption in parts of the UK, after high temperatures and lightning strikes on Saturday morning.
A roof of a house in Essex collapsed after being struck by lightning but luckily no one was hurt.
At Heathrow, airlines have been asked to cancel one in five flights, while other flights are likely to have delays.
The Met Office has issued weather warnings for rain in many parts of England and Wales.