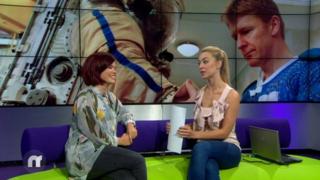 Blue Peter's space badge competition
CBBC's Blue Peter has announced an exciting space competition!
Major Tim Peake will soon become the first Briton on board the ISS and he needs a badge to be displayed on his space suit during his six-month mission.
This is where you come in. Blue Peter want you to design Tim's space badge.
Blue Peter's Lindsey joined Hayley on the Newsround sofa to tell us more.
The competition has now closed, but you'll be able to see the winning design on Blue Peter on 27 November.
Watch more Newsround videos