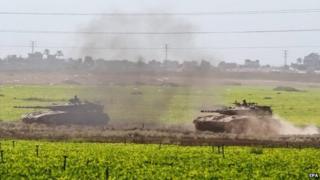 EPA
Israel has sent tanks and soldiers into the Gaza Strip, as the crisis in the Middle East continues.
Israeli officials say they want to deal "a significant blow to Hamas" - the Palestinian militant group that controls Gaza.
Fighting has been going on for 11 days, with rockets fired into Israel and air strikes on Gaza.
A spokesman for Hamas said Israel would "pay a high price" for its actions.
Meanwhile, air raid sirens sounded in towns across southern Israel as rocket attacks from Gaza continued.
Israel's Prime Minister Benjamin Netanyahu ordered the army to target a network of underground tunnels, which are used to carry out attacks on Israel.
He said: "Last night our forces began a ground operation to hit the terror tunnels crossing from Gaza into Israel's territory.
"It is not possible to deal with the tunnels only from the air."
Earlier this week there had been hopes of a ceasefire, but the two sides couldn't reach an agreement.