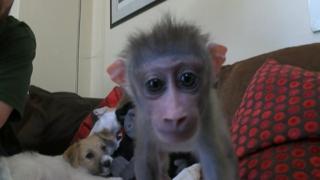 Baby monkey makes puppy friends
A baby drill monkey being raised by a zoo keeper has become best friends with his two Jack Russell puppies.
Simon Jeffrey decided to raise Mubi the monkey, after her mother rejected her at Port Lympne animal park in south-east England.
Now, pups Daisy and Ian are keeping 2 month-old monkey company whilst she is being looked after.
African drill monkeys are an endangered species, whose population has dropped to around 3,000 in the wild.
Simon believes that Mubi will eventually be able to rejoin her family in the animal park.
Watch more Newsround videos