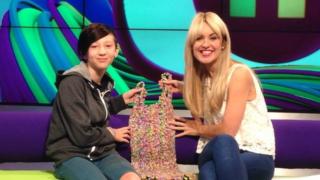 Loom band dress girl chats to Newsround
A 12-year-old girl from Wales put a dress made entirely of loom bands on an online auction site and the price kept going up and up.
There were more than 100 bids for Sian's "multi coloured dress" and it eventually sold for £170,000.
Sian's mum, Helen, said they put the dress up for auction thinking it might only raise about £50.
Hayley caught up with Sian when she visited Newsround HQ to find out more about her very expensive outfit.
Watch more Newsround videos