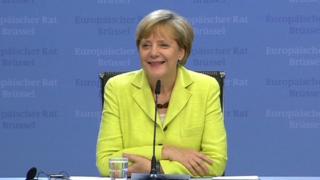 Birthday surprise for German Chancellor
A German reporter has given Chancellor Angela Merkel an unusual birthday present at a news conference in Brussels, Belgium.
The journalist wished Mrs Merkel a happy birthday, before serenading her with the traditional song.
Mrs Merkel, who turns 60 on Thursday, thanked the reporter and revealed that other leaders at the European Union meeting had given her flowers for the occasion.
Watch more Newsround videos