Earlier this year, school children across the UK were set the challenge of designing a dinner, for British astronaut, Tim Peake, to eat when he goes in to space in 2015.
Today the five top entries were announced after being selected by Tim and award winning chef Heston Blumenthal.
The winners will now work on developing their ideas to get them ready for Tim to eat during his 6 month mission to the International Space Station (ISS).
Winning menu
1. The 'Rocket Lolly' by KFSPACEGIRLS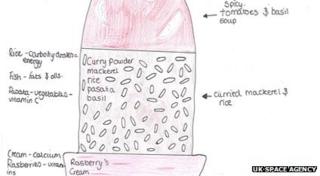 uk space agency
This mouth-watering three-course meal in a lolly consists of tomato and basil soup, a spicy mackerel curry and an Eton mess.
The KFSPACEGIRLS are Ellie, Katie, Nafissa, Mia and Suzi from Gateshead.
2. The 'Nova Tiffin Capsule' by Chloe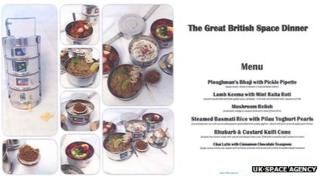 UK SPACE AGENCY
An Anglo-Indian meal of spicy food and a delicious rhubarb and custard dessert is designed to be taken into space in a tiffin carrier.
It was designed by Chloe from Swindon.
3. The 'Space Fuel' by Astro Foodies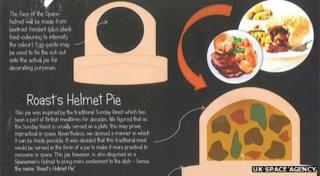 uk space agency
Astro Foodies designed a delicious three-course meal consisting of soup in a shell of brown bread, a Sunday roast in a helmet-shaped pie and a dessert of bite-sized treats in the shape of planets.
The Astro Foodies team is made up of Aminah, Nilum and Iram from East Ham, London.
4. The 'Big Breakfast Launch' by Archie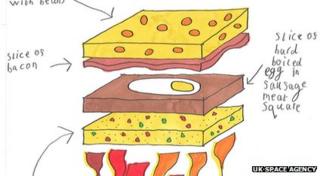 UK SPACE AGENCY
Archie's savoury and scrumptious menu of a full English breakfast is the shape of a big square burger. Archie is from Worcestershire.
5. The 'Space Menu' by Joseph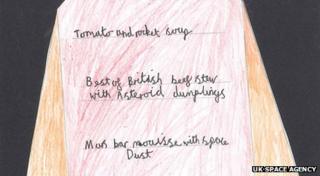 uk space agency
Joseph invented a cosmic menu of tomato and rocket soup, best of British beef stew with asteroid dumplings and a chocolate mousse with space dust.
Joseph is from Reigate.
Principia
Major Peake has also revealed the name of his mission to the space - it's going to be called 'Principia' after a book by the famous scientist Sir Isaac Newton.
He'll be the first Briton on board the ISS.
The name of the mission was selected from thousands of suggestions sent in by members of the public in a competition.