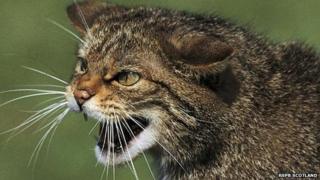 Rspb scotland
A remote part of the Scottish Highlands has been chosen as a sanctuary to try to protect wildcats.
Disease, loss of habitat and contact with pet cats have led to wildcats becoming an endangered species.
The Ardnamurchan peninsula, in the west of Scotland, was selected because the animals have the best chance of surviving in a remote area.
The area has some of Scotland's wildest landscapes and few human residents, so it's hoped the cats won't be disturbed.
Scottish Natural Heritage estimates that there are just 150 breeding pairs of Scottish Wildcats left in the wild.