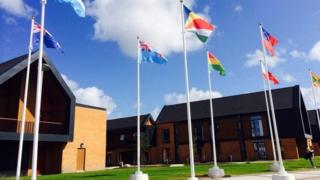 The Athletes Village for the Commonwealth Games has been hit by an outbreak of diarrhoea and vomiting.
Organisers of Glasgow 2014 said there had been "small number" of cases among the workforce and was investigating.
Athletes are due to begin arriving at the site in Dalmarnoc for the Games, which take place in Glasgow from 23 July to 3 August.
Residents reporting symptoms have been advised to stay in their room and contact officials for help.