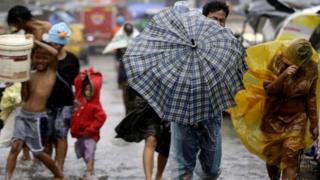 AP
Thousands of people have been forced to leave their homes as Typhoon Rammasun batters the Philippines in south east Asia.
The powerful typhoon is the strongest storm to hit the country this year.
Authorities say at least 10 people have been killed by the storm and more than 370,000 people are taking shelter in places like schools and gymnasiums.
Winds of over 110mph have brought down trees and knocked out power lines.
Rammasun is now moving towards the Chinese island of Hainan.
The storm comes less than year since the Phillipines was hit by Typhoon Haiyan, said to be one of the worst storms on record.