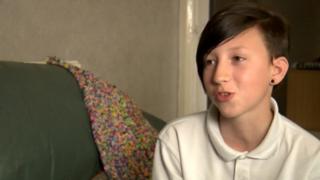 Loom band dress auction ends
A dress made entirely from loom bands has sold in an online auction for more than £170,000.
There were 137 bids for the "multi coloured dress made from loom bands", modelled by 12-year-old Sian from Prestatyn in Wales.
The Duchess of Cambridge, Kate Middleton, brought the bands to grown-ups' attention by wearing a loom bracelet on her trip to New Zealand.
David Beckham and Harry Styles have also picked up on the trend.