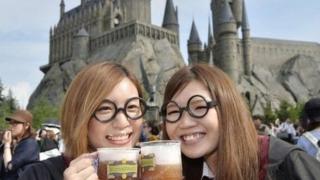 Hogwarts welcomes Japan's Potter fans
Hogwarts Castle opened its doors to Japanese fans on Tuesday at the new Harry Potter theme park in Osaka.
Movie stars Tom Felton (Draco Malfoy) and Evanna Lynch (Luna Lovegood) officially opened the park by casting a magic spell.
Hundreds of fans queued up to be there as the doors opened at Universal Studios.
Watch more Newsround videos