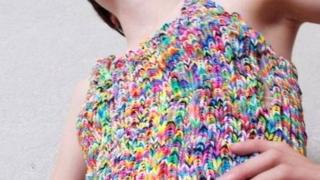 Ebay
A dress made entirely from loom bands has sold in an online auction for more than £170,000.
There were 137 bids for the "multi coloured dress made from loom bands", modelled by 12-year-old Sian from Prestatyn in Wales.
Sian's mum, Helen, said they put the dress up for auction thinking it might raise about £50.
It's not yet known whether the winning bidder will actually pay up, but the website's rules say they must.
The loom bands craze has travelled the world since its invention in 2011.
The Duchess of Cambridge, Kate Middleton, brought the bands to grown-ups' attention by wearing a loom bracelet on her trip to New Zealand.
David Beckham and Harry Styles have also picked up on the trend.