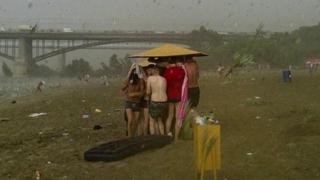 Hailstorm hits Russian beach
Swimmers and sunbathers were sent running for cover when hit a freak hailstorm hit a beach in Siberia, Russia, on Saturday.
A chilled out day by the sea turned into a chilly, wintery downpour!
People were forced to run for cover, some tried to hide under their own beach towels.
Take a look at this video for more.
Watch more Newsround videos