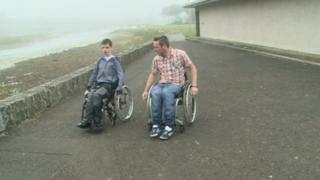 More disabled access needed - Kieran
Kieran is 15 and has cerebral palsy - which means he uses a wheelchair every day.
11 million people in UK have a disability, meaning things like lifts and ramps are essential for everyday life.
In most big towns and cities in the UK, public places have more disabled access, which makes it easier to get around.
But Kieran lives in the small town of Wick on the northern tip of Scotland - and he got in touch with us to say that there, life in a wheelchair isn't so easy.
Martin - who also has cerebral palsy - went to meet Kieran, to see what his life is like and find out what Kieran wants to change.
Stagecoach, the company that runs buses in the area, said: "Wheelchair accessible vehicles operate on our services between Wick and Thurso and within Wick itself, however we recognise that not all of our vehicles are currently low-floor.
"Information on which routes are wheelchair accessible is available on our timetables and we have a disability helpdesk that customers can contact for further information and advice about services."
Kieran is part of Generation 2014, a group of teenagers the BBC is following in the run-up to the Scottish referendum. As he'll be 16 by 18 September, he'll be able to take part in the vote.
Watch more Newsround videos