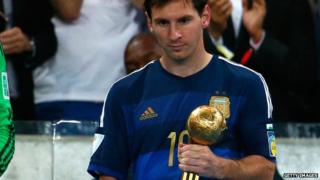 Getty Images
Lionel Messi won the FIFA Golden Ball award for being the best player at the 2014 World Cup.
Argentina's captain picked up four Man of the Match awards in the tournament, but couldn't lead his side to victory in the final against Germany.
However, former England captain Gary Lineker was disappointed by Messi's performances during the World Cup: "I'm not sure we saw the best of Messi.
"He has clearly not been in brilliant physical condition in Brazil."
Messi was chosen from a 10 man shortlist that included Germany's Thomas Muller, Dutchman Arjen Robben, and Colombia's James Rodriguez.
We want to know who your best player was.
Who's your 2014 World Cup player of the tournament?
Who stood out for you?

Was it a goalkeeper who made outstanding saves?

Was it a midfielder who created loads of chances for his team?

Tell us who your top player was, and why...
This chat is now closed but you can still read a selection of your comments below.
Your comments
I think it should be Javier Mascherano because he's an amazing player and has been the centre of the Argentinian midfield. Argentina wouldn't have made it to the final without him.
Joseph, Sheffield, England
It has to be Manuel Neuer because his part in the final between Germany and Argentina was outstanding, even though he didn't score a goal he still saved all the opposition's attacks.
David, Wolverhampton, England
I think Guillermo Ochoa the Mexico keeper was the best keeper as he was very unexpected and made brilliant saves especially against Brazil.
Robby, London, England
My personal favourite is James Rodriguez because he scored one of the best goals in the World Cup and he has amazing football skills.
Adyan, Hull, England
My best player was Neymar Jr as when he couldn't play his team went downhill.
Maryam, Birmingham, England
Arjen Robben is my player of the tournament because he scored sensational goals and did not give up. Not once. Not ever.
Gene, Lincoln, England
I think Mario Goetze because he plays extraordinarily well in any position and he won the World Cup for Germany.
Jack, Yarmouth, Isle of Wight
Personally James Rodriguez was the best outfield player with six goals. Manuel Neuer was the best goalkeeper as he was fearless coming off his line.
Jakob, Darlington, England
Messi won and he deserved it. People might not agree but he has performed well, set up and scored goals, and all his wacky footwork and techniques.
Kye, Bournemouth, England
I think Lionel Messi is the player of the tournament for me. He can out-pace players and go past them. He played well in all the games so he deserves it.
Jack, Essex, England
I think Robin van Persie because he scored some incredible goals, especially the header against Spain. That was awesome!
Joel, Kent, England
I think that Manuel Neuer was the best. He made me feel happy, saved all those goals and the pace on him was wicked!
Shaun, Gateshead, England
The award should have gone to James Rodriguez. Messi did have his moments but Rodriguez should have won it.
Ayomide, Cardiff, Wales
We voted in our Year 3 class and decided that Thomas Muller was the best player in the World Cup, though Van Persie was a close second.
Edith Neville School, London, England
Neymar deserved it because he was a great player and a good scorer.
Cameron, Leeds & Maidstone, England
I think James Rodriguez from Colombia because he scored fantastic goals, made amazing passes and has the best celebration dance!
Melanie, Fort William, Scotland
I think Arjen Robben was the best player of the World Cup because he created many great chances and scored fabulous goals against Spain.
Christian, Bromley, England
I think that Messi deserved to win and if there was a second place award it should go to Neymar Jr who plays for Brazil. I think that both Messi and Neymar Jr are both incredible at football.
Julia, Glasgow, Scotland
James Rodriguez should have got it. He scored 6 goals and he won the Golden Boot. Did you see his volley against Uruguay?!
Luke, Liverpool, England
I think it should have been James Rodriguez from Colombia because he scored some wonder goals!
Atiq, Slough, England
My best player was Wayne Rooney because even though England lost he still played well and didn't give up.
Jessica, London, England