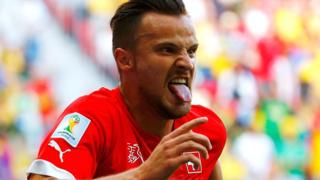 World Cup 2014's best celebrations
The 2014 World Cup in Brazil had plenty of goals and some of them were followed by great celebrations.
Here's our look back at some of the best of them at this year's tournament.
Colombia and Ghana both treated fans to choreographed dance routines, while Netherlands striker Robin van Persie celebrated his spectacular header against Spain by high-fiving manager Louis van Gaal.
Costa Rica's Joel Campbell and Mexico boss Miguel Herrera were also among those who made memorable cameos in Brazil.
Pictures from BBC Sport
Watch more Newsround videos