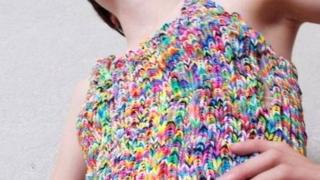 Ebay
A dress made entirely from loom bands being auctioned online is attracting bids of over £170,000.
There have been over one hundred bids so far for the clothing on eBay described as a "multi coloured dress made from loom bands".
The loom bands craze has travelled the world since its invention in 2011.
The Duchess of Cambridge, Kate Middleton, brought the bands to grown-ups' attention by wearing a loom bracelet on her trip to New Zealand.
David Beckham and Harry Styles have also picked up on the trend.