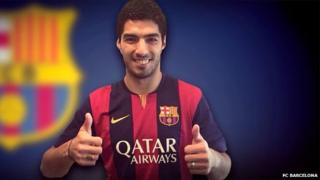 FC Barcelona
Liverpool have agreed to sell Luis Suarez to the Spanish club Barcelona in a deal thought to be worth about £75m.
The Uruguay international is currently serving a four-month ban for biting Italy's Giorgio Chiellini during the World Cup.
Suarez, who won the PFA Player of the Year award last season, will travel to Barcelona next week for a medical.
Liverpool thanked him for his efforts during his three-and-a-half year spell at the club.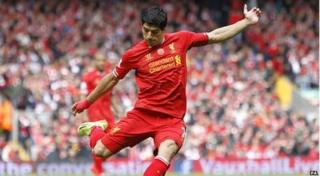 PA
In a statement published on the club's website, Suarez says "It is with a heavy heart that I leave Liverpool for a new life and new challenges in Spain. Both me and my family have fallen in love with this club and with the city."
"Thank you again for some great moments and memories. You'll Never Walk Alone."
Suarez, last season's Premier League top scorer with 31 goals, joined Liverpool from Ajax in 2011 for £22.7m.
When he is eventually allowed to play again, Suarez will join Barcelona's already very strong attacking line-up including Argentine Lionel Messi and Brazilian Neymar.