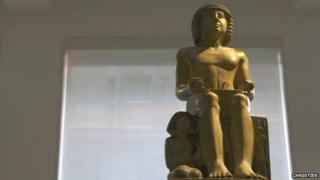 christies
A 4,000-year-old Egyptian statue has sold for £15.76m at an auction in London.
Northampton Borough Council decided to sell the Sekhemka limestone statue to help fund a multi-million pound extension to Northampton Museum and Art Gallery.
The decision to sell the stature has angered some people including the Egyptian ambassador to Britain who said the council should have handed the statue back if it did not want it.
However, the leader of the council David Mackintosh told the BBC, "It's been in our ownership for over 100 years and it's never really been the centrepiece of our collection."
"We want to expand our museum and to do that we need to raise the money."