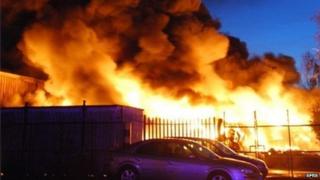 SFRS
A fire at an industrial site caused huge plumes of smoke in the skies over Glasgow last night.
Members of the public raised the alarm when they saw the smoke clearly over the River Clyde.
Tyres were found burning at a scrap yard.
There have been no reports of injuries, but at its peak 15 fire engines were at the scene and about 75 firefighters were battling the blaze.
The fire is now under control but firefighters are still on site.