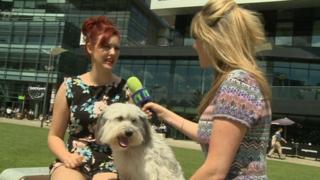 Pudsey the dog barks about his new film
You might know him from Britain's Got Talent but now superstar Pudsey the dog has his own film.
It's called Pudsey: The Movie and it tells the tail - er tale! - about the famous dancing dog and his siblings.
Unfortunately, Pudsey won't be speaking in the film so he's voiced by comedian and TV judge David Walliams.
Jenny's been to meet him and his owner Ashleigh to find out more.
Watch more Newsround videos