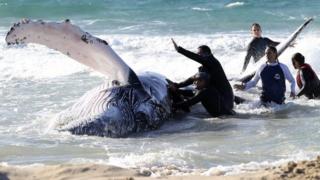 Baby whale helped by rescuers
Australian rescuers have freed a beached baby whale on Thursday almost two days after it became stranded on a popular beach, as a large crowd of onlookers cheered.
The humpback whale, believed to be two years old, was successfully fitted with a specially designed harness and a boat was used to tow it into deeper waters Palm Beach in Queensland.
Leah's got more.