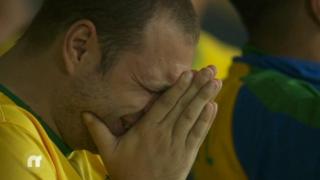 Brazil's 7-1 defeat against Germany
Brazil are known for their success at the World Cup but losing to Germany 7-1 in the semi-finals on Tuesday was the height of humiliation.
Fans didn't just hope that Brazil would make the final they expected it. Instead of making history for scoring goals they became the first team to concede seven goals in a World Cup semi-final.
A big defeat and a big shock to many Brazilian fans and for a team who've always been considered as one of the best in the world.
Watch Leah's report to find out more.
Watch more Newsround videos