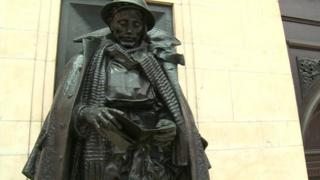 Letters written to unknown soldier
Kids across the country are writing a letter to the famous unknown soldier statue at Paddington Station in London.
The project is to mark 100 years since the start of World War One.
The statue shows a soldier taking a break from battle to look at a letter from home.
Already thousands of people have sent in their own versions of what they imagine the letter might say.
Find out how to send your own letter at the Letter to an unknown soldier website (the BBC is not responsible for the content of external websites)
Watch more Newsround videos