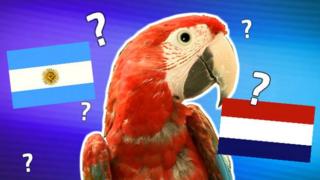 Ronaldo predicts Argentina v Netherlands result
Some say Ronaldo the Newsround parrot can see into the future and predict the result of football matches.
You could put it down to luck - but we put it down to a magical gift from an unknown realm.
On Tuesday he successfully predicted that Germany would beat Brazil.
So let's see who he's tipping to win in the second semi-final between Argentina and Netherlands.
Will Ronaldo get it right again, or is he just crackers?
Watch more Newsround videos