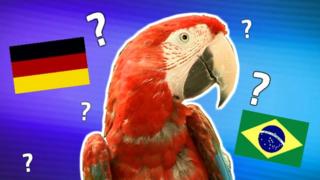 Ronaldo predicts Germany v Brazil result
Ronaldo the Newsround parrot has a magical gift (so we're told).
It's said (by us) that he can predict the result of football matches. He didn't do too well on the quarter-finals but we thought we would give him another chance at the first semi-final result.
So let's see who he's tipping to win in the first semi-final match between Germany and Brazil.
Will Ronaldo get it right, or is he just crackers?
Watch more Newsround videos