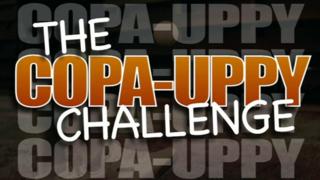 Celebs show epic keepy-up skills
Celebrities showed their keepy-uppy skills with a tennis ball in the Copa-uppy challenge.
To bring a Brazilian flavour to this year's Wimbledon, the challenge was for the stars to play keepy-up - but with a tennis ball.
The former British tennis number one Tim Henman ended top of the leaderboard with a massive 92 kick ups, way ahead of football legends like Clarence Seedorf and Alan Shearer.
Last year's Wimbledon champion Andy Murray came a close second with 78, while tennis commentator Annabel Croft, comedian Alan Davies and presenter Claire Balding were a bit less skilled, scoring just three apiece.
Watch them all in action when they took on the footy challenge.
Watch more Newsround videos