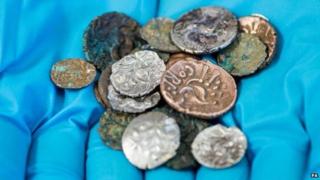 Cave coins found after 2,000 years
A precious hoard of Roman and Late Iron Age coins has been discovered in a cave.
The coins have been undisturbed there for more than 2,000 years.
The first four coins were found by a member of the public in the cave in Dovedale, Derbyshire.
The discovery prompted a full-scale excavation of the site, where archaeologists found 26 coins.
Experts say it is the first time coins from these two separate civilisations have been buried together.
Watch more Newsround videos