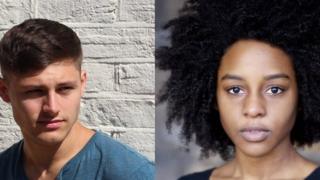 Lucasfilm
Two young actors have been cast in lead roles in the next Star Wars film.
British actor Pip Andersen and US-born Crystal Clarke, who is studying in Glasgow, were chosen to star in the film.
37,000 hopefuls attended open auditions in 11 cities across the UK and United States.
Film producer Kathleen Kennedy said: "The Star Wars universe has always been about discovering and nurturing young talent."
"In casting Episode VII, we wanted to remain absolutely faithful to this tradition," she added.
Crystal Clarke has already been cast in another feature film which is out next year. Pip Andersen is a professional free-runner who has previously appeared on TV and in advertisements.