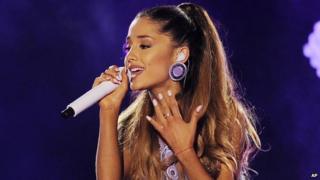 AP
Singer Ariana Grande has topped the new UK singles chart, which now counts both music sales and online streaming.
Her song Problem sold 106,000 copies and was streamed 712,000 times.
The new rules say streaming a song 100 times counts as one sale.
X Factor star Ella Henderson came in second place. Her song Ghost was streamed more than a million times.
But Ella didn't sell as many copies, so her track didn't top the chart again.
Radio 1 DJ Jameela Jamil told Newsround: "I don't think it's massively going to affect the songs we see in chart... but I do believe songs are probably going to stick around for longer."