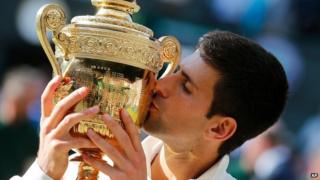 AP
Novak Djokovic won Wimbledon for a second time on Sunday, with a thrilling five-set victory.
He came through 6-7 (7-9) 6-4 7-6 (7-4) 5-7 6-4 to beat Roger Federer.
The win is Djokovic's seventh Grand Slam title and means he has reclaimed the number one ranking from Rafael Nadal.
Djokovic told BBC Sport: "I don't know how I did it. This is the best tournament in the world and the one I always wanted to win."
After winning the game after just under four hours, Djokovic kneeled on the turf and ate some grass.
He then headed into the stands to celebrate with his team.