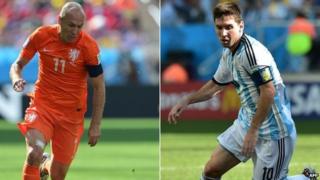 AFP
It's safe to say that both Netherlands and Argentina haven't been playing as well as they could.
Apart from the Netherlands thrashing Spain in their first match, both they and Argentina have been a little disappointing.
But then they have made it to the semi-finals, so who can complain?
Argentina v Netherlands - tonight at 9pm
Will this be the game that either of them step it up a gear?
Both certainly have the attacking players to do so.
Netherlands front line of Robin Van Persie and Arjen Robben are very dangerous - and Robben has been on fire so far in the tournament.
But has anyone got better attackers than Argentina? Lionel Messi and Sergio Aguero can score at any time, so you can never write them off.
The Netherlands' defence has looked very strong throughout, so maybe this game will be all about how well then can contain the best player in the world, Messi?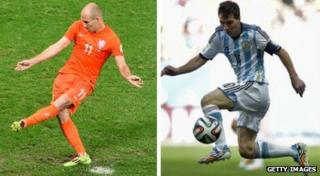 Getty Images
If they can stop the little genius, it could be Netherlands' day... but if the Barcelona star can work his magic, could this be Argentina's World Cup?