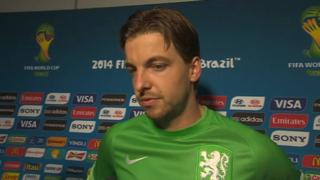 Netherlands win dramatic shoot out
The Netherlands are through to the semi-finals of the World Cup after winning a dramatic shoot-out against Costa Rica.
After a tense 90 minutes in which the Netherlands had most of the chances the game went to extra time and then penalties.
It was just before the end of extra time though, that Netherlands and Manchester United manager Louis van Gaal made a dramatic substitution that could have changed the match. He brought on sub goalkeeper Tim Krul just before the penalties began.
And it was Krul who saved the crucial last penalty to take his team through to the next round. His team will now play Argentina for a place in the final.
Watch more Newsround videos