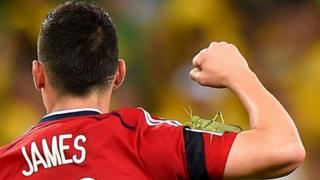 Bug invades World Cup quarter final
A bug in Brazil obviously knows a talented footballer when it sees one - after a giant beastie jumped on superstar James Rodriquez at the World Cup.
The bug - which looks a bit like a large grasshopper - jumped on the Columbian after he scored a penalty during his team's quarter final against Brazil.
It caught the attention of the BBC Sport team - watch this clip of presenter Dan Walker showing the other guys in the studio.
Watch more Newsround videos