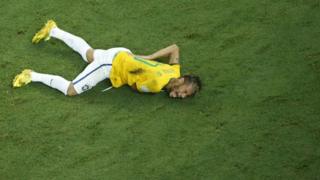 FABRIZIO BENSCH
Brazil is in shock, after the star of their World Cup team Neymar has been ruled out of the rest of the competition.
The 22 year-old has injured his back after a challenge with Columbia player Juan Zuniga during Brazil's quarter-final win.
Brazil won 2-1, but will have to play the semi-final without their top scorer. They'll take on Germany in the semi after they beat France earlier in the day.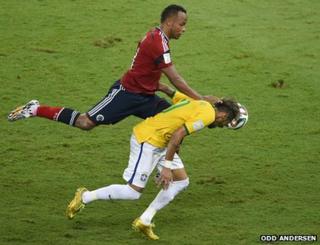 ODD ANDERSEN
Brazil will have to play the semi-final without their other most important player, captain Thiago Silva, who was booked in the win over Columbia.
But it's the loss of Neymar that will really affect Brazil.
The team, and much of the country, has been looking to the Barcelona star to inspire a team that hasn't been at its best in the competition.
With four goals he has played a big part in how far Brazil have got in the World Cup.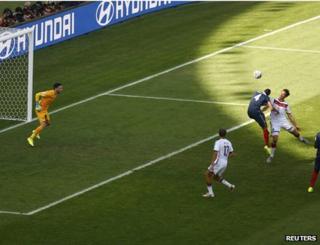 Reuters
In the other quarter-final of the day, Germany beat France 1-0.
Defender Mats Hummels headed them ahead early in the match and France didn't really trouble them after that.